[fusion_text]The V'ahavta is our weekly school newsletter. Inside you will find information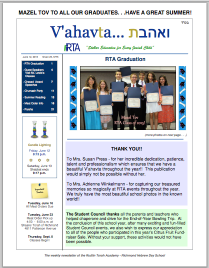 on scheduling, events, students, our school, lessons and much more.
Typically the V'ahavta is mailed out to all parents and a select group of people.  However, here on the web, you can download your own copy of the V'ahavta to print.  You will need Adobe Acrobat Reader in order to view and print the pages.
Click here to obtain the latest version of the V'ahavta.  The size of the file varies but is typically under 15MB.  This will take approximately 30 minutes on dial up, or a few seconds on cable, to download.
Last updated on Friday, June 12, 2015.[/fusion_text]