[fusion_builder_container hundred_percent="yes" overflow="visible"][fusion_builder_row][fusion_builder_column type="1_1″ last="yes" spacing="yes" center_content="no" hide_on_mobile="no" background_color="" background_image="" background_repeat="no-repeat" background_position="left top" hover_type="none" link="" border_position="all" border_size="0px" border_color="" border_style="" padding="" margin_top="" margin_bottom="" animation_type="" animation_direction="" animation_speed="0.1″ animation_offset="" class="" id=""][fusion_text]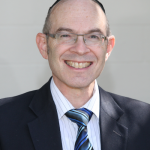 Rabbi Skaist grew up in  Hicksville, New York, a place with a small Jewish community like Richmond, and he attended a school similar to RTA. He then moved to Brooklyn and attended  the Mirrer Yeshiva High School. After graduating as valedictorian of his class of 60 students, he went to Israel for a year to study in the Chofetz Chaim Yeshiva in Jerusalem. He returned to the states and continued to study mainly Talmud and Jewish Law at the Rabbinical Seminary of America, the Yeshiva Chofetz Chaim in Queens, New York, for an additional eleven years. He received his Rabbinic Ordination in 1985 from Rabbi A.H. Leibowitz, one of the leading Torah  sages of that time. At the same time, he received a Bachelor of Arts degree in accounting from Queens College and graduated Magna Cum Laude.He studied for three years in the post-graduate division of the Yeshiva and acheived a masters degree in Talmudic Law. In addition, he trained under master educators of Torah Umesorah, the National Society of Hebrew Day Schools.
In 1989, he moved to Ottawa, Canada and taught in the Ecole Maimonides Torah Day School. Over a period of eight years he taught Talmud, Mishna, Jewish Law and Bible to Grades 1-8. In addition, he also taught in the adult outreach program called Jewish Education through Torah. Following this, he moved to Harrisburg, PA and taught Grades 5,7, and 9 in the Rabbi David L. Silver Yeshiva Academy as well as adult education in the JCC.
In 1999, he arrived in Richmond and began teaching 2nd Grade at RTA and Prophets and Jewish Law in Shaarei Torah of Richmond. Since he has been in Richmond, he has taught Mishna and Bible to Grades 2,3,4,and 5 and Jewish Law to Grades 7 and 8. He currently teaches Talmud, Jewish Law, and Bible in the Yeshiva of Virginia and 4th grade in RTA. He has also taught Jewish Law and Talmud to adults in the community. He has spent the last 16 summers teaching children entering 1st Grade and working as a counselor for children entering 2nd Grade in Bayit V'gan, a bungalow colony in the Catskill Mountains in New York. Rabbi Skaist is passionate about Torah. He has completed several tractates of the Talmud. He is also passionate about teaching and he loves children.[/fusion_text][/fusion_builder_column][fusion_builder_column type="2_5″ last="yes" spacing="yes" center_content="no" hide_on_mobile="no" background_color="" background_image="" background_repeat="no-repeat" background_position="left top" hover_type="none" link="" border_position="all" border_size="0px" border_color="" border_style="" padding="" margin_top="" margin_bottom="" animation_type="" animation_direction="" animation_speed="0.1″ animation_offset="" class="" id=""][/fusion_builder_column][/fusion_builder_row][/fusion_builder_container]