[fusion_builder_container hundred_percent="yes" overflow="visible"][fusion_builder_row][fusion_builder_column type="1_1″ layout="1_1″ last="yes" spacing="yes" center_content="no" hide_on_mobile="no" background_color="" background_image="" background_repeat="no-repeat" background_position="left top" hover_type="none" link="" border_position="all" border_size="0px" border_color="" border_style="" padding_top="" padding_right="" padding_bottom="" padding_left="" margin_top="" margin_bottom="" animation_type="" animation_direction="" animation_speed="0.1″ animation_offset="" class="" id="" min_height=""][fusion_text columns="" column_min_width="" column_spacing="" rule_style="default" rule_size="" rule_color="" class="" id=""]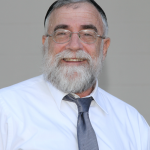 Rabbi Sherman received his Bachelor of Arts degree in Political Science and Psychology from the University of Cincinnati and his Rabbinical Ordination from Shor Yoshuv Rabbinical Institute.
He taught mathematics for two years in New York prior to his move to Akiva Academy in Calgary, Canada, where he taught Judaics to grades 2-8 for three years. After teaching at the Memphis Hebrew Academy, Rabbi Sherman joined the RTA staff in September 1990. He was also listed in the "Who's Who of American Teachers" in 1999.
[/fusion_text][/fusion_builder_column][/fusion_builder_row][/fusion_builder_container]