[fusion_builder_container hundred_percent="yes" overflow="visible"][fusion_builder_row][fusion_builder_column type="1_1″ layout="1_1″ background_position="left top" background_color="" border_size="" border_color="" border_style="solid" spacing="yes" background_image="" background_repeat="no-repeat" padding_top="" padding_right="" padding_bottom="" padding_left="" margin_top="0px" margin_bottom="0px" class="" id="" animation_type="" animation_speed="0.3″ animation_direction="left" hide_on_mobile="no" center_content="no" min_height="none" last="no" hover_type="none" link="" border_position="all"][fusion_text columns="" column_min_width="" column_spacing="" rule_style="default" rule_size="" rule_color="" class="" id=""]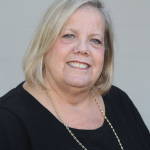 Mrs. Klosenberg received a Bachelor of Business Administration degree from the University of Miami with a major in Finance and Economics. She received a Master of Science degree from Nova University with a major in Mathematical Education.
She has 28 years of teaching experience in math, science and computers, and has coached winning math competition teams on the local, state and national levels in pre-Algebra, Algebra I and II, and Geometry.
In 1996 she represented the National Society for Hebrew Day Schools at the Blue Ribbon conference in Washington sponsored by the Department of Education. She was an adjunct faculty in the math department at Virginia Commonwealth University for eleven years, and continues to be a member of the Greater Richmond Council for Teachers of Mathematics. Mrs. Klosenberg has been a member of the RTA faculty since September 1991and joined Shaarei Torah in 2002 and the Yeshiva in 2005.
[/fusion_text][/fusion_builder_column][/fusion_builder_row][/fusion_builder_container]