[fusion_builder_container hundred_percent="yes" overflow="visible"][fusion_builder_row][fusion_builder_column type="1_1″ layout="1_1″ last="yes" spacing="yes" center_content="no" hide_on_mobile="no" background_color="" background_image="" background_repeat="no-repeat" background_position="left top" hover_type="none" link="" border_position="all" border_size="0px" border_color="" border_style="" padding_top="" padding_right="" padding_bottom="" padding_left="" margin_top="" margin_bottom="" animation_type="" animation_direction="" animation_speed="0.1″ animation_offset="" class="" id="" min_height=""][fusion_text columns="" column_min_width="" column_spacing="" rule_style="default" rule_size="" rule_color="" class="" id=""]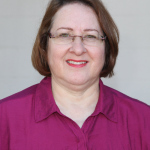 Mrs. Samora is a graduate of the Art Institute of Boston with a major in Illustration, and worked at an advertising agency in New York for three years. She became the art teacher at the Great Neck Synagogue Hebrew School and the art club teacher at the North Shore Hebrew Academy, both in New York. In Israel, she founded and ran a leather talis bag business while living on a moshav in the West Bank. These bags were exported to the U.S.
She received certification for course completion of early childhood studies from J.Sargent Reynolds Community College. She taught art at the Jewish Community Centers' "Kids Place" and "Arts in the Summer" programs in Richmond. She became a teachers aide for three years at the Alepf-Bet Preschool while infusing the program with art for preschoolers.
She regularly attends teacher workshops at the Virginia Museum of Fine Arts and gives private art lessons at her home. Jane is also the art teacher of Heartwood Grove Elementary, a French immersion school in Richmond. She has been a teachers aide at RTA since 1997 and has taught art at RTA and Shaarei Torah High School since 1999.
[/fusion_text][/fusion_builder_column][/fusion_builder_row][/fusion_builder_container]