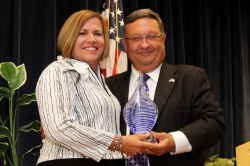 Nearly 200 people attended Rudlin Torah Academy's Annual Chesed Awards Dinner honoring Ann Eisenberg, Neil Sonenklar, M.D. & Anne Woods at the Weinstein JCC on June 12. The evening's theme was "A Little Change is a Good Thing."
Introducing the evening was Master of Ceremonies Gail Moskowitz, who was followed by a welcome from RTA President Brian Greene. He in turn introduced Nathan Shor, newly installed president of JCFR and 2011 Chesed Honoree, whose warm words of support for RTA were graciously received.
Honoree Ann Eisenberg was introduced by her admiring husband Elliot, whose glowing and highly entertaining words captivated the packed audience. He lauded his life partner as "the consummate volunteer.' In accepting the award, Ann spoke about how much giving to the community means to her, the welcoming and inclusive nature of RTA, and how she felt on her visit to RTA earlier in the year that "there in the kindergarten class I sensed were the future leaders of the Jewish community."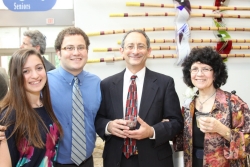 The Sonenklars, introduced by longtime friend John Urbach, were recognized not only for all they do for our Jewish community, but for how they do it – without fanfare, and with gentle and unassuming modesty. In accepting the award, Neil & Anne spoke both on the communal level and also as parents of successful RTA alumni, stressing the value of the RTA educational experience.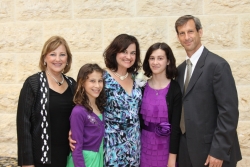 Heather Dinkin was honored with the ABCD Award (Above and Beyond the Call of Duty) for her countless hours of dedicated volunteer work for the school. As RTA Principal Rabbi Hal Klestzick noted in introducing her, Heather has given so much to the school that, "..If we didn't have an ABCD award, we would have created one just for her!"
 For her part, Heather spoke glowingly about RTA and the impact the school has had on her children and entire family. She quoted from Great Britain's Chief Rabbi Jonathan Sacks; "The Egyptians built pyramids, the Greeks built temples, the Romans built amphitheaters. Jews built schools. They knew that to defend a country you need an army, but to defend a civilization you need education. So Jews became the people whose heroes were teachers, whose citadels were schools, and whose passion was study and the life of the mind. How can we deprive our children of that heritage?"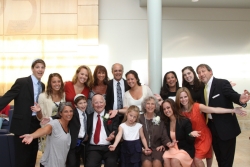 Weene and Alvin Lehman received the school's first-ever Grandparents of the Year Award. The Lehmans received a beautiful introduction and tribute from their eight grandchildren, every one of whom is either an alumnus or current student in the school!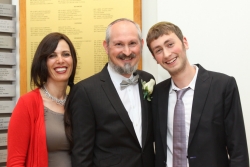 Rabbi Klestzick introduced Alumnus of the Year Rabbi Yossel Kranz with a tribute to how Rabbi Kranz has continued the spiritual mission of his father, Rabbi Yaakov Kranz, ob"m, in teaching Torah and connecting it to Jews from all walks of life.
Rudlin Torah Academy has been serving the Richmond Jewish community for 47 years, providing quality full-time elementary education to Jewish children in the area. It was chartered in 1966 as the Richmond Hebrew Day School. The Academy is accredited by the Virginia Association of Independent Schools. It offers quality general and Judaic education to approximately 120 students in grades kindergarten through twelve. RTA students continue to excel in national standardized testing with classes generally performing above the 90th percentile.